This page will be updated to show as much detail as possible on all new features and improvements released in each Revizto update.
Features Released in each Revizto Update
Release 4.13
Build 53385, Version Number 4.13.0.53385, Date 2019-12-31
Major Features (link):
Ability to mark up attached image & 360 photo
Spell Checker for Windows/Mac
Support of Bentley Microstation (Alpha version)
Ability to mark up photos on iPad
Improved Markup Editor
Release 4.12
Build 53051, Version Number 4.12.0.53051, Date 2019-12-10
Major Features (link):
Sheet Compare

Compare different sheets and versions in real-time
Create and track issues on Compare View
View markups on original sheet version for each issue; compare with current sheet version
Visually align sheets for comparison if needed
Additional Features & Enhancements
Other Features:
Halftone mode for 2D sheets
New filters for issues including: Deadline, Closing Date, Date of Creation
Ability to sort issues by title
Improved drag controls for point-to-point ruler mode
Ability to control visibility distance of clash icons in 3D scene
New, faster rendering engine for 2D sheets and improved PDF support
New Plugin for Navisworks Simulate 2020
Release 4.11
Date 2019-10-17
Major Features (link):
Integration with Procore RFI. All the valuable information coordinated and collaborated on in Revizto can feed directly into Procore RFI in one easy-to-access location and powerful workflow.
Create stamps directly from authoring software: Revit, Navisworks, AutoCAD, ArchiCAD, Vectorworks, Tekla.
Enhancements for saved issue filters: easily find a desired filter through search; reorder filters alphanumerically if needed.
Rhino 6 plugin
Vectorworks 2020 plugin
Release 4.10
Date 2019-09-20
Major Feature (link):
Integration with BIM 360 Docs and BIM 360 Team for Revizto Documents. It includes the ability to

browse BIM 360 hosted files within Revizto,
attach them to issues,
convert hosted PDFs to sheets,
make selected documents available offline for on-site work
Release 4.9
Date 2019-08-21
Major Feature (link):
Revizto Documents

View files from Box, Procore, BIM 360 inside Revizto
Attach documents to issues
Link sheets to CDE-hosted PDFs to see the actual version with no need to re-export
Make selected documents available offline for on-site work
Other Features:
Two-factor authentication support
Vectorworks plugin
Project gallery: project options dialog redesigned
2D sheet revisions panel redesigned
Release 4.8 Special Update
Date 2019-05-16
Major Features (link):
Support of Revit 2020, AutoCAD 2020, Navisworks 2020.
Ability to send multiple issues to Procore at once through multi-edit.
Ability to turn automatic project updates off in preferences (may be useful when using slow cellular connection).
Ability to attach 360 photos from camera roll to issues on the iPad.
Support of Autodesk Inventor 2019.
Release 4.8
Date 2018-08-31
Major Features (link):
Issue Stamps
Accelerate your markup workflow with Issue Stamps. This new feature will enable you to identify project issues with a single click and automate the reporting and management of those issues.
OBJ Import
Easily import your reality capture models into Revizto with the new OBJ Import tool.
Bi-directional clash status synchronization with Navisworks
Enhance your clash detection process with bi-directional clash status synchronization between Revizto and Navisworks.
Export to IFC
Ability to export Revizto projects to IFC format.
High res images in the Issue Tracker
Revizto Issue Tracker now supports high resolution images up to 4K – including markups over both 3D and photos.
Ruler in VR
Explore and define issues accurately with our new Ruler tool in Virtual Reality.
Toggle between grids and levels of sub-models
Navigate your model even easier with the ability to toggle between grids and the levels of the sub-models in your project.
Hebrew support for text input
Revizto 4.7
Date 2018-04-24
Major Features (link):
Displaying multiple issue markups on sheets. In this mode, you can see all markups related to selected sheet.
Ability to export any of your sheets to PDF with its markups, based on issue filtering and presents.
Ability to create custom filters presets in the Issue Tracker (for both reporting and filtering).
Ability to update issues brought in from BCF. New workflow to allow Solibri clash detection integration through BCF.
Integration with Tekla, so you can export directly from Tekla with our plugin.
Display of double-sided materials
New optional access limitation for 'export to .exe / save as'
Support of Revit 2019
Support of Navisworks 2019
Support of AutoCAD 2019
Performance improvements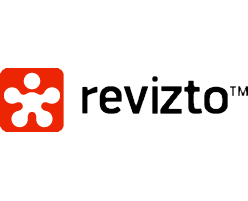 Note: More historical entries and additional detail for each Revizto update will be progressively added…