In previous versions of Revit, you could 're-paint' surfaces using the By Category material.
However, this is not available in Revit 2012.
Instead, you need to use the drop-down arrow associated with the Paint tool – this will reveal the 'Remove Paint' button (see image below).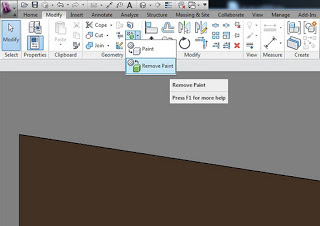 Also, note that I have moved the Modify ribbon panel to be next to the Home panel. Do you know how to do this?
Just hold Ctrl and click and drag the Ribbon Panel title to put it where you want it…