Tag:
generative components
Download the version translated into English (by this translator) at:
this link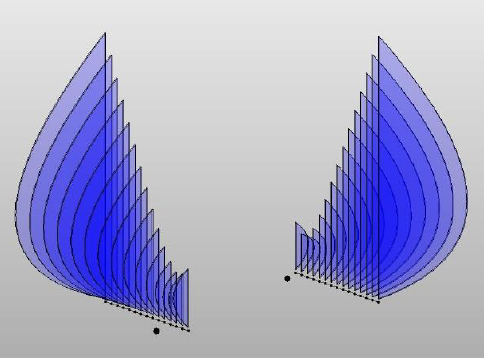 Original in German download from Box, post and handout by Oliver Langwich:
http://revit-family-planner.blogspot.com.au/2014/01/handout-generatives-design-au-germany.html
Most of you know what computational, parametric and associative design IS and what it MEANS. Previously, Bentley had a strong product in Generative Components, and we all know about Grasshopper / Rhino. But it appears that Autodesk is coming to the party – with a solution called DesignScript.
They have employed the man behind GenerativeComponents – Dr Robert Aish. Apparently, this programmatic design solution has been in the works for Four Years!
It will be very interesting to see if Autodesk can capture the imagination of designers in the same way that Grasshopper has, or if they can offer some sort of realistic BIM integration quickly (like GC).
Some big claims here:
While Bentley and McNeel have managed to capture the imagination of many a young architect with their generative products, DesignScript will bring computational design to a much larger audience, one which previously embraced end-user languages like AutoLISP.
It will be interesting to see how aggressively Autodesk addresses this niche market when the product finally gets unleashed later this year.
Being the godfather of both GenerativeComponents and DesignScript, Dr Aish has a pretty good idea of the capabilities of the competition and, having had carte blanche at Autodesk to start a new tool will aim to improve on what GC is capable of.
So, what is DesignScript?
Dr Aish describes DesignScript as a language which sits at the intersection of design and programming. It allows parametric and associative programmes to be easily written allowing experimentation with AutoCAD's geometric entities.
DesignScript is intended to be used by novices and professional programmers as a production modelling tool to evaluate complex geometric models and to help design professionals make the transition to understanding programming concepts and in turn, learn more about the designs.
Read more at:
AEC Magazine – DesignScript
There is even an AU class!
This class will be the first presentation of "DesignScript", a new Parametric and Computational Design application within AutoCAD. This application allows creative designers and engineers to directly express their design logic and use this logic to build complex design models. This class will introduce the conceptual foundations of associative, parametric, and computational design, and demonstrate how these have been incorporated as features within the DesignScript system. DesignScript takes a radical user-oriented approach to help designers and engineers make the transition from conventional direct manipulation modeling to the point where they can accurately express and execute their own design logic.
http://au.autodesk.com/?nd=class&session_id=7636
2009 video uploaded by Autodesk University:

The heads up for this post came from:
Newly forthcoming tool for creating these types of parametric models is a graphical programming language Autodesk DesignScript. Its development is in charge of Autodesk's Dr. Robert Aish, the original author of the concept GenerativeComponents (GC).
DesignScript is easy to use, visual, parametric, associative tool on the border of programming and designing. The first will be given on AutoCAD, but is expected to extend it to other Autodesk applications, such as the Revit which will complement the existing possibilities of parametric and organic elements.
via
Google Translate
of
http://www.nazdi.cz/2012/04/autodesk-designscript-generovane.html
Image and caption from aecmag