You know when you have two pads meeting at a common edge, and then Revit for some reason shows this tiny sliver of created topography between them?
Try this:
Set the two Pads to have the same 'Level' and 'Height Offset from Level' property values
If you need to use slope arrows, you should still be able to get them to work upwards or downwards from this particular level
This tip worked for me – I hope it helps you. I'm pretty sure that there are still situations where things still just won't quite work…but for the time being, Revit Wants you to set adjacent Pad levels at the same value.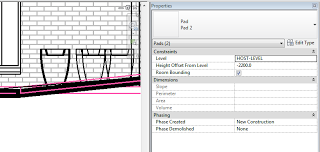 Tip via this thread
Pads Pads Pads…oh and there's a problem – AUGI