IFC Exporter for Revit 2013 | Autodesk Revit | Autodesk Exchange Apps
or
http://sourceforge.net/projects/ifcexporter/files/2013/IFC%20Exporter%20for%20Revit%202013%20v2.7.0.msi/download
Apparently this is version 2.7. I may be wrong, but there doesn't seem to be an easy way to check the 'version' on Autodesk Exchange Apps. If you download the MSI, you can check the properties of the file, where you will see that the digital signature is timestamped:
‎Wednesday, ‎23 ‎January ‎2013 10:39:38 AM
You could also check the IFC Exporter page on Sourceforge: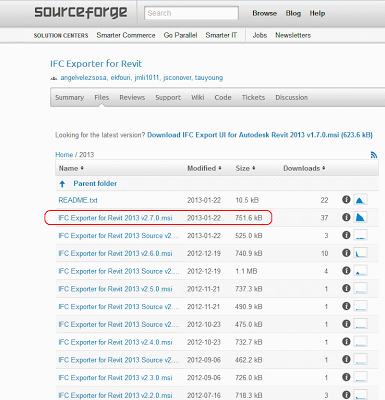 From the documentation:
The source code for this application is available on open source, at the SourceForge project : http://sourceforge.net/p/ifcexporter/home/Home/
This application is a good complement to the IFC Exporter UI client app, also available on the Exchange store. However, it is not required to get the latest version of that application when installing this application. Nor is it required to use this alternate UI when getting the latest IFC Exporter UI.
More info:
24th January 2013, version 2.7. Read more at BIM Blog
http://translate.google.com/translate?u=http%3A%2F%2Fbimblog.typepad.com%2Fautodesk_bim_blog%2F2013%2F01%2Fifc-exporter-v27-for-revit-2013.html&hl=en&langpair=auto|en&tbb=1&ie=UTF-8