Update: It was pointed out to me by someone on the inside that the workflow I describe below essentially amounts to a back-channel unsupported and in fact inappropriate use of BIM 360 Docs. I was surprised at this, as I had essentially obtained this information from the Autodesk forums. What is wrong with the steps below? The answer is apparently this: A paying BIM 360 Docs customer is not supposed to invite a free user into their projects. This is apparently part of the terms of use for BIM 360 Docs customers. I was not aware of this, and in fact I'm unsure where to find it in the documentation.
Just to be clear, while the steps below *work* at this time, it apparently is an unsupported and inappropriate workaround and there could be risks (financial or otherwise) for BIM 360 Docs customers who invite free users into their projects. You should only invite:
BIM 360 Docs users for which you have paid for and applied an entitlement
BIM 360 Design (C4R) users who have purchased their own entitlement
I expect this workaround may eventually be disabled by Autodesk? You can view if you have exceeded your purchased package of BIM 360 Docs entitlements in the relevant Autodesk Manage pages. For example, it might show 16 of 10 licenses used in red? This is where I think there is potential for Autodesk to back charge users who abuse this current state of affairs.
My advice: check directly with Autodesk about who you can and cannot share your BIM 360 projects with…and proceed accordingly.
Situation:
You are a paying BIM 360 Docs user and would like to invite a non-paying user to collaborate inside a BIM 360 Docs workspace. Perhaps you just want them to be able to upload and download files, but not Collaborate in Revit…
Solution:
They need to create a free BIM 360 Docs account, and then get invited to your workspace.
(see above update)
Steps:
Non Paying User –
Create a BIM 360 Account and Autodesk login if necessary (using email)
Paying User / BIM 360 host admin –
Go to your Account Admin
Add the User and Company (using email) (see above update)
Go to Project Admin
Add the User
Go to Document Management
Share a Folder to the User or their Company
Access and Upload Documents for Free User –
Login to BIM 360 BIM 360 Docs Sign In
Click on Change Account
Select the workspace from the Paying User
Access the Folder that was Shared to you – you can now Upload and Download with a Free account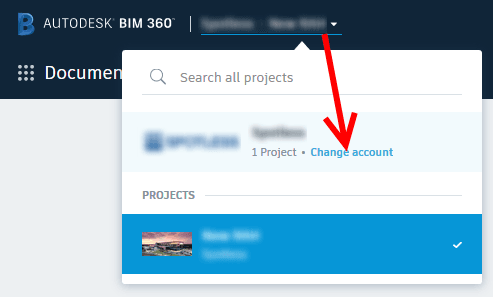 Thanks to this forum page for the idea.