At Dimond Architects, we recently responded to an interesting client brief.
The Client was seeking a scheme that retained existing trees, provided affordable housing and was highly rated in terms of energy efficiency.


Our design essentially achieved these aims. We were sensitive to the significant existing trees on the site, and a vegetation buffer was maintained along 3 sides of the lot. The overall impact of the provision of carparks was minimised.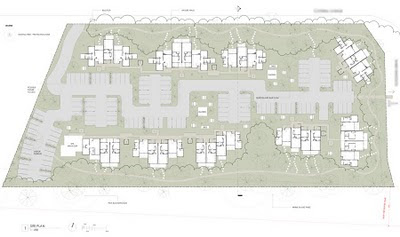 Given the need for affordable housing in Australia, and indeed in many parts of the world, we feel that our experience in combining affordability with energy efficiency and environmental sensitivity will be of great benefit to future Clients.
The Dimond Architects team has a combined focus for 2010 on professional development in the area of sustainability. We aim as a team to further build upon our green credentials which will affirm our profile as an environmentally focused architectural practice. These goals are exemplified by our membership to the Green Building Council of Australia and our Director's Professional Development commitments impacting the whole team.
Feel free to contact us:
Dimond Architects Pty Ltd
Unit 2 Ground Floor
13 Carnaby Street
Maroochydore Qld 4558
Australia PO Box 980
Buderim Qld 4556
Australia Ph: (07) 5451 0988
Fax: (07) 5443 6866 Email: info@dimondarchitects.com.au
CK577AW886VW