Category:
Autodesk Desktop App
Direct link:
Download and unzip the Autodesk Licensing Service 9.2.2.2501.zip installer.
Release notes:
Licensing Service Release Notes

Issue:
For single-user subscriptions, Autodesk 2018 products can experience an intermittent crash. A fatal error message may be shown, such as the following examples:
AutoCAD Error Aborting
FATAL ERROR: Unhandled e06d7363h Exception at ee563c58h
FATAL ERROR: Unhandled e06d7363h Exception at 8d6b3fb8h
The system displays an error dialog window to submit an error report.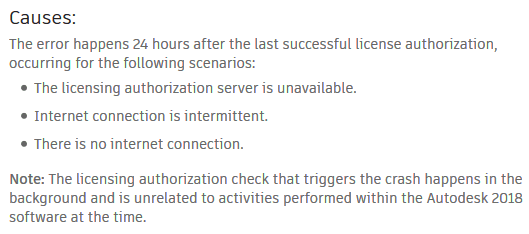 Solution:
Download and install the Autodesk License Service 5.1.5 Hotfix 1.
To download updates and hotfixes, use the Autodesk Desktop App (see  Where to get Product Updates, Add-ons, and Enhancements) or access the direct links below. Before installation, ensure the internet connection is working and repaired if needed.
Performing a Windows installation:
Stop all Autodesk products that are running.
Download the following file based on the installed Autodesk software:
Autodesk License Service (x64) – 5.1.5 HotFix 1 (560 KB)
Autodesk License Service (x86) – 5.1.5 HotFix 1 (1820 KB)
Double-click the downloaded file to begin the installation.
Mac OS links also at main page.
From AKN