I experienced this error after installing Navisworks Manage 2015: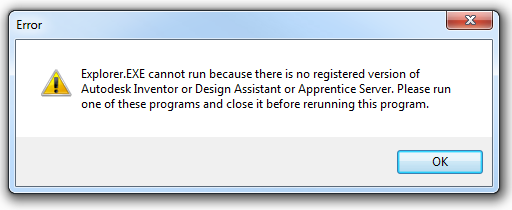 Basically, a right-click shell extension for ZIP files was looking for Inventor and not finding it. I logged it with Autodesk and was notified that it was a genuine, repeatable issue.
To fix it on my system, I did this:
Download and install ShellExView
Run it
Click Options, Filter by Extension Type
Only select Context Menu and click OK
Look for the 5 results with Description "DtBridge", all starting with Autodesk Inventor…
Select them and right-click, Disable Selected Items
Click Options, Restart Explorer
The right-click menu for ZIP files no longer shows the error.