A sure-fire way to become more productive when using Revit is to utilise the Project Browser effectively. It can allow you to quickly find and navigate your project, instead of laboriously searching for views or families.
In Revit 2011, you can use the persistent Properties Palette to quickly sort the Project Browser views.
Click on top-level of Browser (Views…)
Click on Properties Palette and choose option.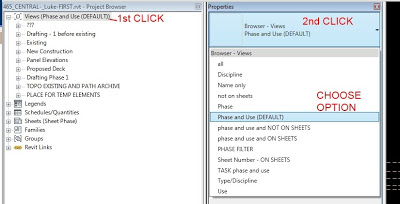 This method also works when sorting Sheets in the Project Browser.
The above post assumes that you know how to create new sort groups for the Project Browser. If you don't, have a look at this page.