I'm excited to share this release with you, because it has some amazing improvements. Here are my top 3 new features:
Visibility control of Linked Models. Basically, you can now turn individual models on and off like you would in Glue or Navisworks, and you can override colours! Those colour overrides can be saved into a viewpoint or issue. This is a massive enhancement.
Phases Support like Revit. There are some really nice visual effects possible, now that Revizto can show you Existing and subsequent phases, along with various phase filters. This opens up a range of new possibilities for sharing and discussing work in and around existing buildings. You can now 'markup' a demolition phase directly in the model, and assign issues to get items resolved quicker.
Clickable Links on Sheets. For sheets you export from Revit, you can now immediately jump to the related views by using the view symbol hyperlink, just like you would in Revit.
As you can see, the integration with Revit is getting tighter. This means Revizto is now even stronger for fully in-house review workflows, like model review and drawing markup within an Architectural firm. Of course, Revizto remains my favourite way to handle coordination for large multi-discipline teams, whether that be design coordination or services coordination tasks.
This image shows how you use the new Objects dialog to select 'Links' and then override the colours and visibility of each linked model: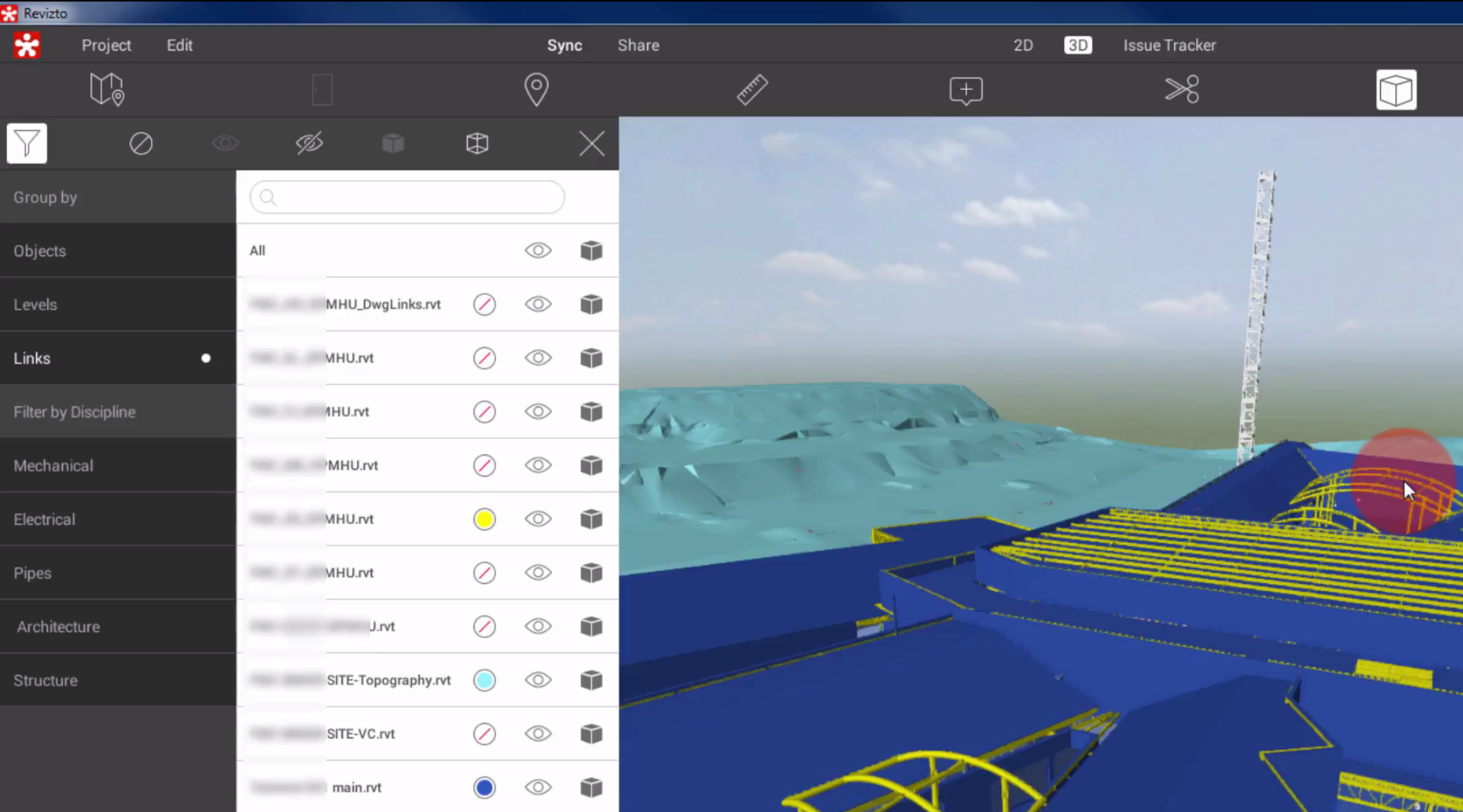 What's new in Revizto 4.4 release:
– Ability to color code links, categories and levels. New "Objects" dialog.
– Visibility control of linked models and individual objects.
– Phases support from Revit.
– Tag management system for the Issue Tracker.
– Clickable links on sheets.
– Console app for getting XLS reports from the Issue Tracker.
– Ability to attach new file formats to issues. The complete list of supported formats: pdf, txt, csv, xls, xlsx, doc, docx, jpg, png.
– Interface improvement. 3D tab: reconfigured toolbar.
– Brand new installer. Minor updates will come through as patches, containing only the differences and therefore being much less in size.
– Rhino support (direct plugin in Rhino).
Here is a direct link to the release build, or you can download from here:
https://storage.googleapis.com/builds.revizto.com/MSI/Revizto(x64)-4.4.39337.msi
Here is the release video, which goes over the new features:

While I'm at it, here are the resources from my BILT session on Revizto, which included a preview of 4.4:
BILTANZ2017 Revizto Presentation
BILTANZ2017 Keynote Presentation