Note: If you install the non-Subscription Update Release onto an R2 Revit, you will probably find that the nice extra things like Site Designer disappear. If this happens to you, reinstall R2 from the Subscription page and your new features should come back. The Autodesk_Revit_2015_R2_UR5.sfx.exe should hopefully not 'break' your R2 install.
More at:
http://knowledge.autodesk.com/support/revit-products/downloads/caas/downloads/content/autodesk-revit-2015-update-release-5.html
Direct link:
http://download.autodesk.com/SWDLDDLM/Updates/RVT/UR5/Autodesk_Revit_2015_R2_UR5.sfx.exe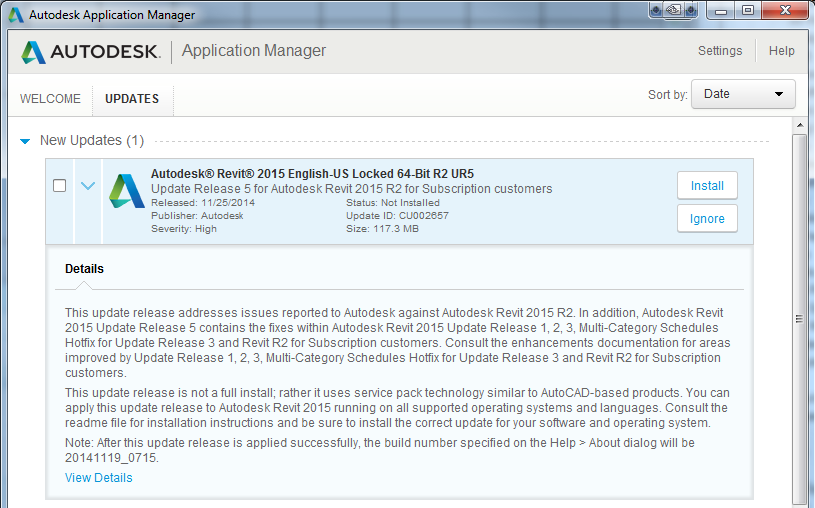 Readme:
http://download.autodesk.com/SWDLDDLM/Updates/RVT/UR5/Autodesk_Revit_2015_R2_UR5_Readme.htm
Enhancement List:
http://revit.downloads.autodesk.com/download/2015RVT_RTM/UR5/Enhancements_List_RVT_2015_UR5_forR2.pdf
EDIT: More links from Revit Clinic:
Direct links:
Revit 2015 UR5
Revit Arch 2015 UR5
Revit MEP 2015 UR5
Revit Struct 2015 UR5
Revit LT 2015 UR5
Installation Readme files and Enhancements Documentation are available on each product page.
UR5 enhancements:
Improvements made in Update Release 5 build (20141119_0715):

Autodesk® Revit® Architecture 2015 Updates
Improves resolving of the Revit Server saved paths.*
Corrects the behavior of placing families in a project when the family type selector is expanded.
Improves stability when loading families that contain data created by add-ins.
Improves stability when ungroup a group.
Improved stability when filter a schedule.
Improved stability when opening projects with bad dimensions.
Improves stability when making edits in the Sun Settings dialog.
Improves stability when deleting parts while modifying division.
Improves stability when canceling new label creation in family environment.
Improves stability when editing materials in families in a workshared environment.
Improves stability when clicking the Macro Manager tool in the Family Editor.
Improves stability when multiple users load families and undo their actions in a workshared file.
Improves stability when two users loaded families of the same name.
Corrects an issue with ceiling-hosted lights that caused the lights to be deleted when the ceiling was moved or copied.*
Corrected an issue related to placement of face-based families on certain part elements.*
Autodesk® Revit® MEP 2015 Updates
Improves stability when editing a conduit temporary dimension in an elevation view.
Autodesk® Revit® Structure 2015 Updates
Improves stability when exporting multi-rebar annotation into DWG format.*
Corrects an issue with incorrect warning and error messages for groups in design options with a group containing structural framing elements or columns.*
Fixed an issue with the generation of the analytical surface for a vertical floor and slab.
Autodesk® Revit® API 2015 Updates
Allows the ability to offset the end of a wire when it is connected to other elements.