To be quite honest, I haven't really used the new 2013 features for Railings, perhaps because my recent work has been more on a master planning level rather than construction documentation. In any case, there are plenty of resources out there to get you started.
Here is a quick crash course – in the Type Properties for Railings in Revit 2013, you will see new options for 'Top Rail', 'Handrail 1' and 'Handrail 2'. You can set the Type and Height of these.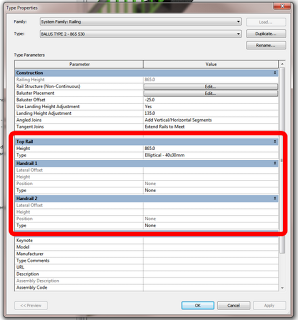 To make new Types, go to the Project Browser under Families -> Railings and you will see nodes for Handrail Type and Top Rail Type. Duplicate and edit the type definitions you see here to make new 2013 'continuous' railing types.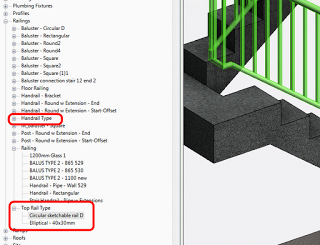 Once you have applied a Top Rail Type to a Railing Type definition, you can now Tab to select the Top Rail! It is basically separating the Top Rail out as a component so that you can perform advanced edits to it. From here, you can access the real awesomeness of Revit 2013 Railings – a sketch mode to extend and adjust the Railing …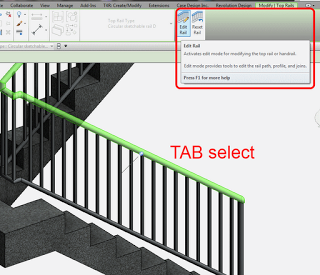 Click Edit Rail and you are in business. It will look something like this: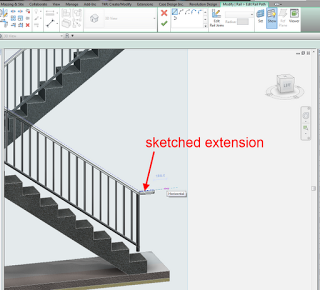 So, if you haven't used this feature in the past 7 months, hopefully this post will help you get started with it.
I also found the audio interview linked below quite insightful. It describes the reason railings are undergoing upgrade, including the requirement of railing extensions for accessibility. For me, this has probably caused the most pain with regard to railings in pre-2013 versions.
Also, this interview gives the following 'insight' into Revit 2014 and future versions:
Railing features would be upgraded over several Revit releases
| | |
| --- | --- |
| Railings: Hear Jean Foster, Senior Interaction Designer, speak about railing enhancements. Jean describes how the top rail and hand rail elements have been changed to better accommodate continuous conditions. She explains how additional controls allow you to add extensions and different types of extensions to a railing, and how making components within the railing system makes the system more flexible as a whole. | Interview 6m 09s |
Listen to more interviews at:
New Features Interviews – WikiHelp