Somewhat of a milestone for What Revit Wants – 1,000,000 pageviews were reached over the weekend.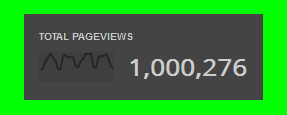 If you want to show your continued support for this website, please Like What Revit Wants and Dimond Architects on Facebook.
You can also follow me on Twitter.
Something you might have noticed about What Revit Wants is that there is no ad banner and no Donate button. However, I really do enjoy hearing and responding to your comments – so if you have something to say, please feel free to use the comments box below every post.
Here's a thought to start your Monday with:
A license of Revit is just like a ticket on a plane. You have to use it to get anywhere. The final destination?
BIM excellence.