First of all, this was a bit too funny not to share: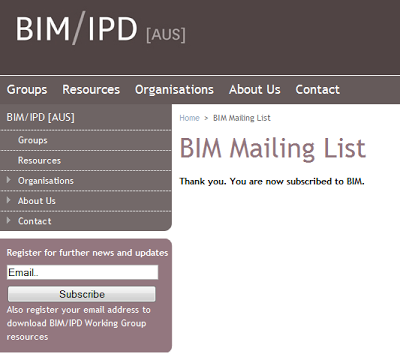 Finally! I am now subscribed to BIM itself! What will this new entity reveal? Has BIM become self-aware?
Enough of that…
From the BIM/IPD [AUS] website:
The Australian Institute of Architects and Consult Australia formed a BIM and IPD Steering Group in mid-2011 with participation of leading experts from architecture, engineering and construction. The purpose of this group is to develop resources and guidelines for practitioners in the Australian building industry. The Steering Group has formed four Working Groups with focus on particular themes to jointly produce material that will be managed and updated via this website.
There are a few handy resource pages, including the following: