In the past, whenever you built a parametric array in a family, you needed to handle the "break" condition – that is, if the array value drops to 1, you need an IF formula to actually keep it as 2, hide the array and show the single element. It works, but it is clumsy and needs some parameter obfuscation.
That is why a Divided Path,
with a Repeated 2 point Adaptive family with Reference Line connecting the points,
hosting "whatever" you want,
on a non-driving point that lives on the Reference Line,
is better – because when the number of divisions of the Divided Path is set to 2, there is still only one repeated element. No formulas or duplicated parameters needed… Also, Revit error checking usually kicks in when you try to set the Divided Path to "1" and it will prompt you before the thing breaks.
Very useful in situations like this curved adaptive Window family – it can have any number of panels, from 1 to 200 (thanks Aaron).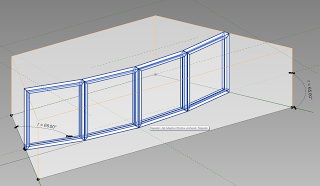 EDIT Following Aaron's comment, here is some more "proof of concept":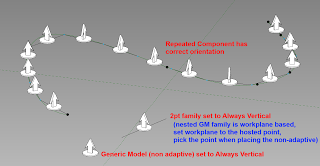 Download the example file here