What specification did I end up with?
(Read the previous Part in this series to see how we established some baseline specs)
After checking out a few different manufacturers and comparing pricing, I decided to go with a Metabox rig.
Here are the details:
Metabox Prime-X P870DM-G
17.3″ 4K QFHD 3840×2160 IPS WVA Matte 60Hz (100% SRGB) NVIDIA G-Sync LED
NVIDIA GeForce 980 (GXX) Extreme 8GB GDDR5 VRAM with G-Sync
Intel Core i7-6700K Processor (8M Cache up to 4.2 GHz)
64GB DDR4 2400MHZ (4 x 16GB)
Samsung 950 Pro 512GB PCIe M.2 SSD
2TB 5400RPM Slim line HDD
Killer 1535 AC Low Latency WIFI and Bluetooth
As you can see, it meets the following requirements:
64GB RAM
High end desktop gaming graphics (not mobility)
High end consumer CPU
PCIe M.2 SSD
Here are some of the other things in the box:
External USB Slim Blu-ray Reader/Writer Optical Drive
Win 10 Professional 64BIT License & Media – Installed & Ready-Out-Of-The-Box
2 Year Metabox Platinum Care Onsite Pickup Protection
Power DVD Bluray & DVD Playback w/ Burning Suite
And here is what it looks like when compared to a Surface Pro 3 (my previous site office rig):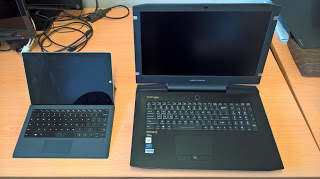 Metabox Prime-X P870DM-G
I've been using this system for serious work for about 2 months…
How did I set it up, and
How does it perform?
We will consider these question in future parts in this series.