There is a nice little addin in the works from Emanuel Favreau … he is working on a Revit to Unity exporter that includes all materials and textures. You can open a sample model in WebGL here (probably should use Chrome).
There is obviously a lot of development in the industry at the moment to create the best experience in moving BIM models into gaming environments for various reasons, and there are a lot of solutions that are doing this in various ways.  Typically, these offer real time rendering and visualization, and the side benefit of allowing models to be viewed in VR. Which method do you recommend?
Sample of Emanuel's addin in action:
via Twitter at this link
I have posted about other game engine software for BIM previously, such as: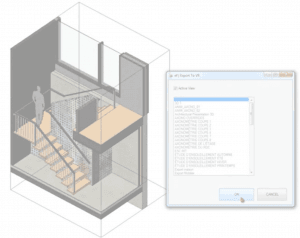 Also on the app store, you can also find Walk-Through-3D™ for Autodesk ® Revit® by AMC Bridge. This is another Unity export plugin with the following features:
The add-in supports export of 3D model geometry from Revit to Unity allowing users to have the first person 3D shooter game like experience while using Revit created model as the 3D environment.
The main features of the add-in includes:
Export of 3D model geometry with materials and textures from Revit to Walk-Through-3D.
Manipulation of the resulting 3D model in a similar fashion to a 3D first-person shooter game.
Support of textures along with an ability to apply weather effects.
Generation of a standalone executable package to view the exported Revit model in a three-dimensional representation that requires neither Autodesk Revit nor Unity installations.
Support of HTC® Vive virtual reality headset and controllers.
Support for Intel® RealSense™ camera
The video below demonstrates the add-in's basic functionalities:
Next video demonstrates the add-in control via HTC Vive:
Next video demonstrates the add-in control via Intel® RealSense™:
Walk-Through-3D is compatible with Revit 2016-2018.