Sometimes you just need to hear an idea and you innately know "this is going to be useful…"
Quick Select command for Autodesk® Revit® to select by element type and its properties. Expand the element or family type and select the properties that you wish to filter by. Click OK and all those elements will be selected.
When in "Or" mode, the command will select all elements that match any of the properties.
When in "And" mode, the command will only select elements that match all the selected properties.
Example of potential uses:
select all Casework on a particular Level – done
select all Filled Regions with a given area – done
select all Walls whose Top is Attached – done
As with most addins I post about – its free. Download on Exchange at:
this link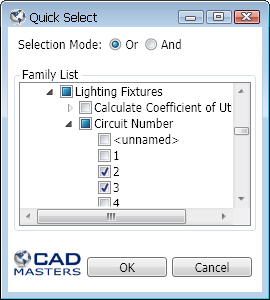 Heads-up via:
#revit must have addin! Selection by Parameter Values from #CADMasters: Quick Select http://t.co/ZFSXP3ePhz
— Julien Benoit (@Jbenoit44) January 6, 2014