Direct download link for Revit 2015 R2 versions:
http://download.autodesk.com/SWDLDDLM/Updates/RVT/UR7/Autodesk_Revit_2015-x64_Update7_forR2.exe
Readme (live):
http://download.autodesk.com/SWDLDDLM/Updates/RVT/UR7/Autodesk_Revit_2015_Release_2_UR7_Readme.htm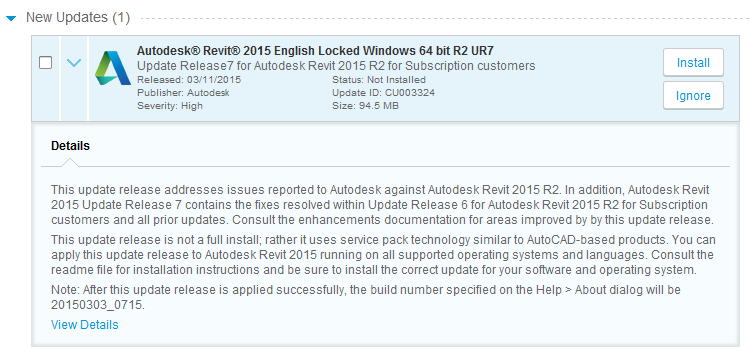 Quote:
"After Update Release 7 is applied successfully, the build number specified on the Help > About dialog will be 20150303_0715. For reference, you should save this readme to your hard drive or print a copy.
Issues Resolved by this Update Release
This subscription only update release addresses issues reported to Autodesk against Autodesk Revit 2015 R2. In addition, Autodesk Revit 2015 Update Release 7 contains the fixes within Autodesk Revit 2015 Update Release 1, 2, 3, Multi-Category Schedules Hotfix for Update Release 3, Revit 2015 R2 for Subscription customers, Revit 2015 Update Release 5 for R2 and Revit 2015 Update Release 6 for R2. Consult the enhancements documentation for all areas improved by this update."
Note: additional deployment links will follow as an update to this post when they are available.
Enhancements list (not yet live):
http://revit.downloads.autodesk.com/download/2015RVT_RTM/UR7/Enhancements_List_RVT_2015_UR7_forR2.pdf
Download for non R2
http://updatesdl.autodesk.com/updates/files/autodesk_revit_2015-x64_update7.exe

Architecture Readme
http://updatesdl.autodesk.com/updates/files/autodesk_revit_architecture_2015_release_2_ur7_readme.ht…

MEP
http://updatesdl.autodesk.com/updates/files/autodesk_revit_mep_2015_release_2_ur7_readme.htm

Structure
http://updatesdl.autodesk.com/updates/files/autodesk_revit_structure_2015_release_2_ur7_readme.htm
An update to the dates:
http://revitclinic.typepad.com/my_weblog/2015/03/alert-upcoming-downtime-for-update-to-a360-collaboration-for-revit-2015.html
My previous post:
What Revit Wants: Revit 2015 Update 7, and planned A360 downtime for Collaboration for Revit