Rather than get lost in the flood of Revit 2014 information, I thought I would wait until closer to the time that most people will actually start installing and using it. The post below is just a collection of my notes and things that I find particularly interesting or exciting about the 2014 release – oh, and there are some pretty cool tips included too 🙂
Non-rectangular crops can be locked
You can lock the edges of multiple Plan view non rectangular Crop Regions to a set of model lines. Nudging the lines will adjust the sketch in all 'locked' views.
Client based DWF review will probably die slowly and be replaced by web methods
Autodesk Design Review development is slowly stalling, and being replaced by cloud-based collaboration methods. Nothing really new here, but one day we will probably say goodbye to standalone DWF viewers in lieu of web viewing and markup tools.
Exploding ACIS
For this to work, the source import should be a 3D ACIS solid from AutoCAD or a SAT file from Inventor, Rhino or similar.
Note: 3D DXF isn't really a "solid" model (probably depending on version), it's likely a surface model.
Double-click to edit anything
Be sure to turn off Drag Elements on Selection to prevent accidental moving of elements
New Selection controls in the Status Bar
Don't forget to try these out
Vault integration
Finally starting to become something useful for everyday Revit users…
Inventor to Revit conversion / BIM Exchange Environment and Inventor simplification
A combination of these tools allow you to simplify Inventor models and export them to RFA files for use in Revit.
File size gains can be pretty convincing: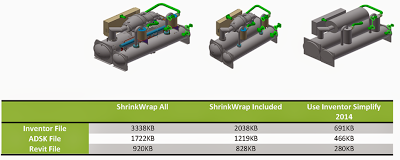 From CADline Community
You can read more about this at:
Inventor 2014 to Revit 2014 – Blog – CADline Community
Schedule Formatting
Click the column top (letter) to select the whole column and change font for that column.
Dockable Palettes
Can be docked at top of screen.
Non-rectangular crop regions – limitation
Annotation crops are still rectangular only
Slow install?
Could be because content is being downloaded during install. Un-tick content packs to try to speed up the install.
Tabbed Browser Panel
For example, drag Properties on top of Project Browser. Tabs are at bottom.
Project Browser Organization
Can now have more (up to 6) 'levels' of grouping.
Displacement set tips
How to set up nested levels of displacement:
Select a wall with a window & Displace both of these
Tab select the Window and Displace it again
If you reset the window it will go back to its original location, to get it back in the wall you need to select the wall's displacement set, Edit and Add the Window to that Set.
You may find it easier to displace a single element first, and then use the Edit / Add functionality to put other elements into that Displacement set.
Citrix Licensing
BDSP version of Revit 2014 (Onebox) will now be supported in Citrix environment
(removed the need for special licensing to be used for either Citrix virtualization methods, no concerns about obtaining Citrix certification and QA support for all products in a Suite)
As per the System Requirements / Citrix:
Dedicated Autodesk license server for session-specific licenses
Revit 2014 will "fix" duplicated lower and uppercase parameters in Families (link)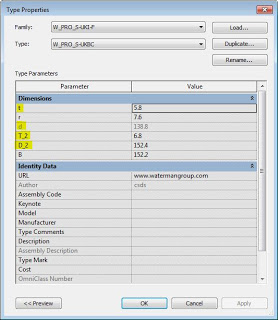 The oft-reposted 2014 Schedule Tips (link)
Shows how formatting can be added to a template file (even if there is no real data in the model)
More on this here
Village BIM also reminds us that Generic Model Schedules can now schedule the volume parameter.
Optimized View Navigation
Enabling the Optimized View Navigation makes it so 'while' you Pan, Zoom and Swivel some display aspects simply get disabled until the action is over…
It does not have any effect when in Realistic or Ray Trace mode however.
If the Optimized View Navigation is enabled it suppresses the display of: fill patterns (including materials), all element 'edges', all shadows and mechanical / structural hidden lines.
Read more:
REVIT Rocks !: REVIT 2014 Optimized View Navigation Video
Videos:

An interesting quote on implementation from Dave Light's post:
where once BIM managers wanted to roll the latest version of Revit out to their staff on projects, they are now taking a more pragmatic approach to deployment & often holding back for 12 months or even skipping a release.
Steve:
assigning a keyboard shortcut to the Properties Palette gives me the illusion of switching between the Project Browser and Properties Palette quickly.
Revit OpEd: Switch Between Palette and Browser with Keyboard Shortcut
A free ebook with videos:
Autodesk Revit Architecture 2014 New Features and Enhancements – Revealed
(250 mb download link here for offline use – you can use 7zip to extract the EXE and gain direct access to mp4 video files etc)
(2.9 mb download of reader link here)
More:
What's New in Autodesk Revit 2014? – User Interface and Selection Updates – ASCENT Blog
REVIT Rocks !: #REVIT2014 Video Tutorial on Electrical Lighting Wiring Circuits and System Browser
Whats new in Revit 2014 – Institute of Technical Design
Autodesk Revit 2014 New Features List and 30 Minute Video Review | Bradley BIM
http://translate.google.com/translate?sl=nl&tl=en&u=http://t.co/mg2rBIFI5F
Some download and installation tips:
http://translate.google.com/translate?sl=auto&tl=en&u=http://revitde.blogspot.com/2013/05/download-und-installation-von-revit-2014.html