I saw some information on this Project a while back – it looked very cool indeed. Essentially it allows you to record and replay a tutorial or workflow in extreme detail. For Autodesk products, it may likely replace tools like Camstudio, Hypercam, Screencast and SnagIt.
(embedded JWPlayer)
There are already a stack of tutorials uploaded at https://chronicle.autodesk.com/
From the Labs site:
Project Chronicle is a free technology preview from Autodesk Research that makes it extremely convenient and easy for users to capture, share, and learn from software workflows. Project Chronicle consists of a recording utility to capture recordings, and a website that displays the recordings as Chronicles, interactive video tutorials.
The Chronicle Recording Utility allows users to capture workflows from within Autodesk products. The utility records a continuous video screen capture and optionally voice narration. What makes Chronicle unique is that is also records the timing and details of workflow information, such as the tools, settings, and dialog boxes that are used during the workflow.
Captured data is then uploaded to the Chronicle Website where other users can view a video of the workflow. Additionally, the captured workflow events are displayed on an interactive timeline, enhancing the viewing and learning experience.
In essence, Project Chronicle will allow software experts to showcase their expertise and will allow other users to view and learn from their real-world expert examples.
Please visit the Project Chronicle Website: https://chronicle.autodesk.com.
via
Autodesk Labs Project Chronicle
Some other info:
Paper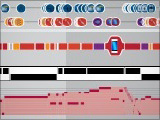 Tovi Grossman, Justin Matejka & George Fitzmaurice. (2010).
Chronicle: Capture, Exploration, and Playback of Document Workflow Histories
UIST 2010 Conference Proceedings:
ACM Symposium on User Interface Software & Technology.
pp. 143 – 152.