Masking can be a real pain in Revit. Sometimes you just want to hide some bits of geometry on multiple views, but it is difficult to actually model what you want in 3D. So you may resort to Masking Regions in Detail Groups, Copy-Paste Aligned – but all of that is suboptimal.
Today there was a great tip on Masking in multiple views over at Shades of Grey:
I could use a masking region, but this is like going back to CAD drafting … separate regions in each affected view. What if I place the mask into a generic model family? If this family has a vertical model line (use invisible lines) the masking region will show up in any plan where the cut plane intersects the model line.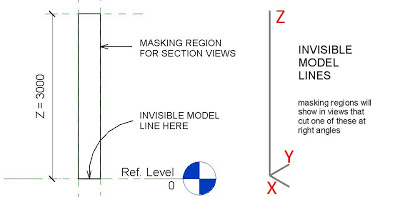 Extending this idea into 3 dimensions I can create a family with 3 model lines (X,Y,Z) and 3 masking regions. Give it instance parameters to control the size of this "virtual box" and it will mask out the finish layers for any view that cuts through the duct at right angles.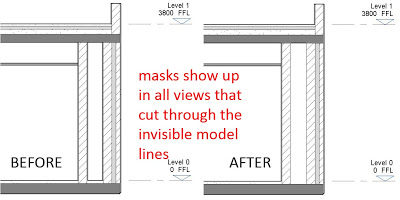 Read more:
Shades of Grey: MACAVITY UNMASKED