After reviewing Andy's and Tim's recent posts surrounding trees and reaction, I would like to contribute this little idea.
Its a very simple setup – just a 2pt Adaptive with an "extension" (created by controlling the host reference planes of a couple of points), that has been loaded in and repeated across a treetop form. As you move the centre adaptive point up and down, the surrounding spines react to maintain a perpendicular relationship to the main form.
I have added parameters for the extension length, and top and base radius of the spines. You can adjust these in the Project Browser by modifying the Type Properties of the 2pt family.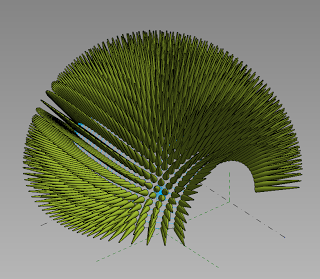 Here's the family for download.