I was speaking to CJ from Crossley Architects yesterday. He said that he had been experimenting with creating freeform rocks in Meshmixer and bringing them into Revit. Here is an example of what he has produced: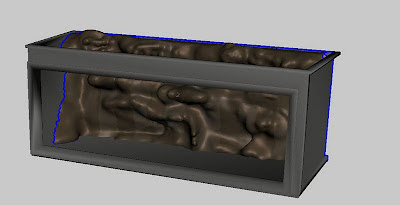 As part of his workflow, he first of all used the STL Exporter add-in to export the fishtank context from Revit. This ensures that sculpting work is done in a way that can be accurately scaled and proportioned.
After importing the STL context into Meshmixer:
Bring a plane object (Import Plane) into Meshmixer and transform it to suit the tank wall that is to be sculpted.
Do the freeform modelling in Meshmixer.
Export to 3ds Max (see previous post). Holes may need to be capped.
Go from 3ds Max to a SAT file into a Revit family.
I'm glad to see that the Meshmixer organic workflow is getting some real-world Revit use!
Here is my previous post on Meshmixer:
What Revit Wants: Freeform and organic modelling from MeshMixer to 3ds Max to Revit