BIM is supposed to make things easier and more efficient, right? Then why do we often have to re-do work in different platforms, simply to get the result we want? Surely, we can do better… especially when it comes to high quality rendering and presentation workflows.
One common scenario is that you might export a Revit model to some 3D editing and animation software, perhaps like 3dsMax. Then, you will do some work, modify materials, tweak some lighting perhaps, and then render an image. That image might go into Photoshop where additional Entourage and effects are added. And you do get a kind-of good result. But, what if you change the model? Well, you have to go through multiple steps just to update things. Or, what if you want to take the nice material from Photoshop and bring it back to Revit? That can be a real pain. However, now there is a better way…
I have written about Lumion a few times before. It is a incredibly powerful tool for Architects to present and share designs. However, it may still have suffered a little from the 'endpoint syndrome' described above. But that is no longer the case! Now, Lumion offers a Live Link to the Revit model, meaning that work does not have be done over and over again.
Getting started
To get started, install a trial of Lumion 7.3, and install the Lumion plugin 2.01 for Revit. Open up a Revit project. Then, simply go to the Lumion ribbon and press the 'Play' button.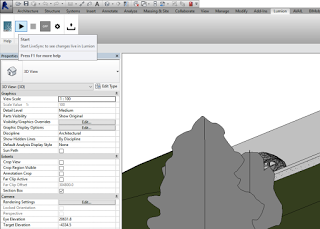 After Lumion starts, you will be prompted to start a new scene from the scene templates: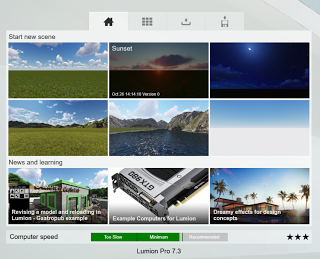 In just a few seconds, it launches showing your Revit model. Seriously, it is really fast! This workflow is so much quicker than an export – import method, and will be familiar to users some of the other popular realtime visualisation solutions out there. You can immediately start navigating in this rendered environment. And of course, you can start building your Lumion scene by adding content from the immense library. However, we really want to focus on LiveSync. How does it work?
Here is a list of some things that work really nicely:
you can move objects in Revit, and they immediately move in Lumion
you can add new objects to Revit, and they will show up in Lumion
you can edit Revit materials, and they will update in Lumion
delete an object in Revit and it disappears from Lumion immediately
you can use terrain tools in Lumion to merge in with your Revit topography
I have created a short video that describes how to get up and running with Lumion 7.3 and LiveSync for Revit. Check it out here:

Further, this new Exporter provides a much tighter integration between Revit materials and Lumion materials: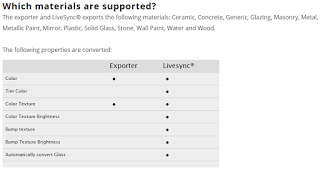 Workflow Tip
After you have completed an editing and model building session with LiveSync, what happens next? Well, you can close Revit and Lumion, and Lumion will prompt you to save. It does actually save the embedded LiveSync object. So, later, you can open Lumion and do some scene development work without using Revit.
How smart is this connection? To test it out, I did this:
closed everything
opened Lumion 7.3
opened a scene that included a LiveSync model
then, I opened Revit with the appropriate Revit model
for some reason, it didn't update… until I realised that the LiveSync model uses the File Name and Path to determine which model it came from. Because I had used 'Save As' on that Revit model and put it somewhere different, the link was broken. I then used a Revit model in the correct location, and Lumion immediately updated the import
This means that using a Revit model in a consistent location will allow easy updating of the Lumion model. You can work independently in Revit or Lumion, and then at any time restart LiveSync to updated the model in Lumion with the changes from Revit. Nice!
Demo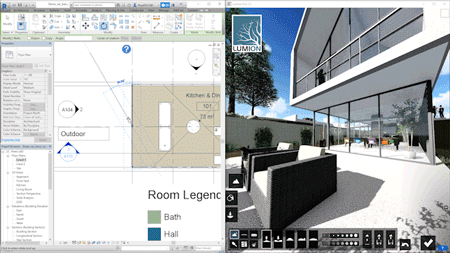 LiveSync in action
Video – Moving Objects

Video – Editing Materials

Video – Settings

Further Considerations
It is interesting to note that Lumion materials are essentially 'disabled' for LiveSync Revit objects.

This makes sense of course, because we are trying to keep as much intelligence as possible in Revit, and leverage the strengths of Lumion for high quality outputs.
If you find that your Revit model is 'too low' and embedded into the Lumion terrain, you can globally move it, just as you would with other Imports: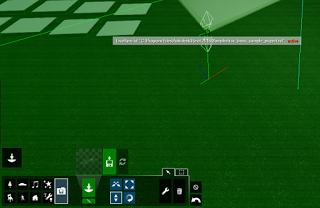 Items in worksets that are closed or invisible by default will not show. What this basically means is that the Lumion LiveSync addin does not work on the specific objects you can see in the current Revit view, but rather it works in a more 'complete' sense, showing all objects that would typically be visible in any view.
Summary
If you are already using Revit and Lumion, these new additions will make designing much easier and more efficient. If you haven't used Lumion before, now is definitely time to try it out! This improved connection to Revit, along with the already powerful content creation capability of Lumion, will truly allow design and present in ways you have never even imagined!
Download Links:
To try LiveSync for Revit for free, go to this page on the Lumion.com website were you can download the trial based on Lumion 7.3 PRO. This trial includes the LiveSync for Revit.
https://lumion3d.com/free-trial.html
---
From the Press Release:
Make changes in Revit​®​ and immediately see them appear live in Lumion!
Lumion LiveSync® provides a real-time high quality 3D view of your Revit® design. This plugin for Revit® creates a live connection with Lumion, so that changes in Revit® can be previewed in real-time in Lumion.
Live synchronization can help you work faster, for example in the early stages of design, when you are making frequent adjustments to your Revit® model.
Lumion 7.3 is a FREE update for Lumion 7 users and the Lumion® plugin 2.0 for Revit® is FREE of charge to anyone.
How does it work?
●     You need 
a ​Lumion 7.3 license

Lumion
Lumion® is easy-to-use, fast, high quality visualization software for architects. It is compatible with almost all 3D CAD software packages such as ​Revit®​, ​SketchUp®​, ​ArchiCAD®​, ​Allplan® and many others. It offers a full package. With a CAD program plus Lumion you have all you need to make great presentations. It includes sky, water, an extensive library of materials, people, plants, cars and furniture and loads of special effects.

Before ​Lumion​®, rendering used to be really hard. Setting up and completing a render used to take days. With ​Lumion​® you can do it in hours. You can even make last minute changes before a meeting and update your renders in minutes. Anyone can sit down with ​Lumion​® and within 15 minutes learn how to create videos, images and 360 degree panoramas.

Lumion.com

For more information contact Linda van Wijk, Director Marketing Communications
Lumion.Linda@Lumion.com