Certain Revit guys are undeniably at the "top of their game". Zach Kron for conceptual modelling. Jeremy Tammik for API / programming. Aaron Maller for a bunch of practical stuff, like Creating a Revit Template. Dave Light for a bunch of other stuff, like explaining new features. Steve Stafford for longest-running, regular Revit blog. The list goes on… but,
When it comes to Revit deployment, Gordon Price is "that guy".
If you have a question about (or a problem with) deploying Revit, Gordon has probably already solved it. How can you benefit from his considerable experience in the area? By taking his course on Udemy.
The course allows you to get a huge head-start on your own deployment plan, as it provides access to the deployment scripts that Gordon has developed. These do two main tasks – admin scripts for things that need admin rights, and then user scripts for things that need to be done on a per user basis.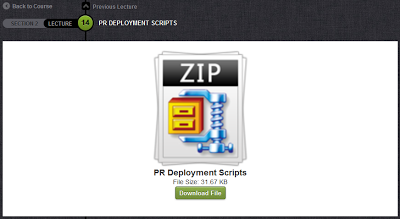 You know you want these…
The course is presented in a very understandable and accessible way. Gordon provides background and orientation where necessary, but he also goes into detail on advanced topics as required.
The videos are very helpful, and demonstrate the entire process. A number of common problems with Revit installation and deployment have been foreseen and handled by Mr Price (such as the long filename issue).
As for 2014 deployments: I know for a fact the Gordon is deeply involved in setting up his own deployments for 2014 products, and when the time comes, he will update the Udemy course for 2014 products. In many cases, the principles remain similar across versions.
Other cool tips and ideas in the Udemy course include:
how to use Resource Monitor to really tell if your Revit install has crashed…
set deploy default Press and Drag to zero (off). (Want to get a T-shirt?)
handling multiple Templates with quick shortcuts from the Start Screen
disabling access to the global Wikihelp (if you want to)
much, much more
Here is the promo video:
(embedded JWPlayer)
In summary, Gordon is at the top of the Revit deployment game. I tend to think he knows more than the Factory about real-world deployment. He has developed a great system, and shared it with us all in a very comprehensive online course. Don't reinvent the wheel. The time and cost required (from you or your company) to view this course will be easily won back through smooth and fast deployment.
Gordon has kindly provided a special coupon code for readers of What Revit Wants – use this link:
Revit Deployment / Gordon Price – What Revit Wants (10% off)
You can find Gordon Price on LinkedIn here. His blog is the Pragmatic Reviteer.
EDIT: New info on Revit 2014 deployment (applies to those subscribed to the course, use the link above)

All,
Just wanted to let you know, testing for the 2014 version is well under way. The new code and videos will be available in the next week. Of course material is included in your current course membership, no upgrade fee!
New for 2014
Automated Uninstalls
More granular control over UDC files
Improved logging
Simplified customization
Improved support for installing and maintaining multiple generations of ADSK software.
I am really excited about some of the new features. I hope you find the new version an improvement over the 1.0 effort.
And thanks again for joining the course!
Best regards,
Gordon Price
the Pragmatic Reviteer
PS – If you think that I (Luke Johnson) am good at things, feel free to connect with and endorse me on my LinkedIn page .