Do you have some large format black and white PDF drawings that are taking up excessive space? Perhaps they contain multi-layered vector information that is clogging them up. You can easily make them smaller by recompressing into TIFF format with G4 compression.
Option 1 – PDF Tools and Irfanview
Convert PDF to multipage TIFF using PDFill PDF Editor with FREE PDF Writer and FREE PDF Tools
Open TIFF and save as TIF with G4 compression in Irfanview (suggested dpi setting 200 dpi)
Option 2 – PDF-Xchange Viewer
Open PDF in PDF-Xchange Viewer
File – Export – Export to Image
Page Range – All
Use TIFF format, Options – Compression – CCITT Group 4 fax
DPI settings at 300 all round (for other settings also see image below)
Click Export…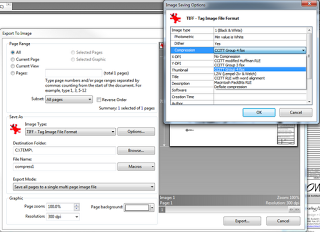 If you want to make a TIFF into a PDF again, just open in Irfanview and Print to PDF file using CutePDF or similar. The resulting PDF will generally be way smaller than the original PDF.