Direct Links:
Free DWF Publishing
DWF publishing helps you enhance collaboration and easily exchange project information with extended teams. Download the free* Autodesk® DWF™ Writer to securely share 2D and 3D data as DWF files—no matter what design application you're using. Now available for 32- and 64-bit versions of Microsoft® Windows®.

Built-In 2D and 3D publishing—Publish 2D or 3D designs automatically with built-in DWF publishing from many of the Autodesk design applications.
Publish rich design information—Select the preferred 32-bit Autodesk® DWF™ Writer plug-in—SolidWorks® 2006, CATIA® (V5), or Pro/ENGINEER® Wildfire™ 2.0—to publish 3D models including intelligent design information.
Publish from Microsoft applications—A Microsoft® Windows® system printer driver, DWF Writer allows you to publish easily and directly from Microsoft applications, including PowerPoint®, Word, Excel®, Visio® and Project applications.
FAQ (pdf – 53Kb)
via
http://usa.autodesk.com/adsk/servlet/pc/index?id=10798343&siteID=123112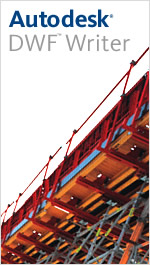 via
Applied Software Blog: 2d DWF Writer