When contractors figure out how to control the design, then the industry will be turned upside down.
The above quote is from Jason Grant's Blog. For a while now, it has been my desire to post about the future convergence of design and fabrication, but I am struggling to find both the 'time' and the 'angle' to write from.
At RTC Australia, in the 'Film and Stage' session with Phil Read, we discussed the workflow on a film set. Essentially, everything happens quickly – the design and construct timeframe is exceedingly compressed. All the parts of the process must be expedited: Brief – Schematic – Design Development – Modelling / Documentation – Output to Fabrication. Some of the work is done using a type of CNC hotwire cutting process, with styrofoam as the substrate.
Here is an example of such a fabrication method:
How does this all affect AEC and Building Design and Construction? Well, I think time will ultimately tell. I don't feel like making sweeping assertions today…
However, I would assume that the concept of 'compressed timelines' will continue to impact on the AEC Design and Construction process.
In the meantime, consider the rest of the quote:
AEC is the only profession where the fabricators do not own the designers. Nike designs and then fabricates the shoe, Ikea designs and then fabricates the products and basically every element around us owns the fabrication and the design. When contractors figure out how to control the design, then the industry will be turned upside down.
via
Jason Grant's Blog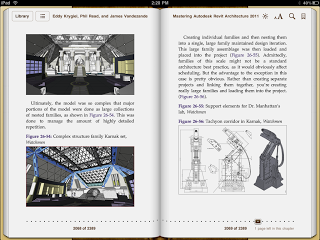 Image from http://www.architecture-tech.com/2010/07/one-small-step.html
Feel free to comment and share your wisdom…