Do you ever get a little annoyed by the things Revit doesnt let you do? There are some irritating limitations in our favourite BIM program – but SAuBIM aims to workaround one of them.
Out-of-the-box Revit does not let you use a 'calculated parameter' in a Tag. Don't ask me why. It is just a fact of life at the moment. SAuBIM (pronounced saw-bim, and meaning 'semi-automatic BIM') takes the pain out of this with regard to one specific task – calculating room occupancy data and then displaying it in a tag.
Basically, you take the following steps to use SAuBIM:
Close your Revit project.
Install and register SAuBIM.
Open the SAuBIM utility.
Set your Revit 'Program' location in the top Browse box.
In the middle Browse box, select the Revit file that you want to calculate Room Occupancy for.
Click 'Import Schedules and Tag'. Wait for Revit to do its thing.

TIP 1 – If you come across a dialog that says 'Enter Interactive Mode', then something hasn't quite worked properly. I recommend that you:

– Close Revit WITHOUT saving
– Follow the steps above again, but between steps 5 and 6, tick the 'I am Importing into a Revit Template File ( *.rte) box. Even though you are using your .rvt project file, this step may actually cause SAuBIM to complete the import correctly.

TIP 2 – If the above also does not work, you can manually complete the following steps (on your project BEFORE applying any SAuBIM items):

– Copy (from Project Browser) the 2 x schedules from
"C:Program Files (x86)SAuBIMSAuBIM InstallTest Project – Code Calc.rvt" (for Windows 7 64 bit)
and Paste (Ctrl+V) them into your project
– Load the Room Tag from
"C:Program Files (x86)SAuBIMSAuBIM InstallRoom Tag – OL.rfa" (for Windows 7 64 bit)

Once you have saw-bimmed your file, you can now use the Update Occupancy Data function (Revit must be closed to do this)
Tag your rooms with the Room Tag – OL.rfa tag.
You have to keep in mind that it is semi-automatic – you need to 'Update…' the data before plotting / exporting.
However, it is a good proof-of-concept, and will prove extremely useful to some architects. Thanks SAuBIM!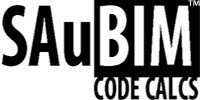 Now, here is a little request / challenge to the SAuBIM guys: What if you 'exposed' some of the functionality of this program, and made it more customizable?
This is what I'm thinking: you allow us to select Calculated Parameters FROM a specific project file, and then use your tricks to push these into Shared Parameters, which we can then Tag?
I think it would be pretty easy, with the functionality you already have in place?