Isn't it strange that Scope Box is a property of datums (like Reference Planes and Levels), AND its also a Property of Views (Floor Plans, Elevations, Sections etc) in the FAMILY environment, yet there is no tool to create a Scope Box available? (we are talking Revit 2012 here)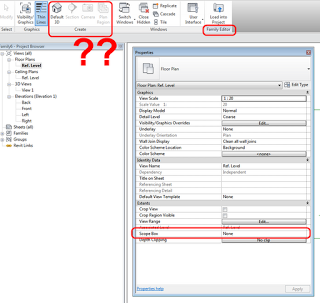 If you add a keyboard shortcut to Scope Box – it doesn't work in the Family Editor…
If you add Scope Box to the Quick Launch toolbar – guess what? The Scope Box tool suddenly 'appears' in the Family Editor – but it is always greyed out. Remove it from Quick Launch, and it disappears just as suddenly… check it out:

How are we going to get around this one? Simple – use this method to transfer a Scope Box from the Project Environment to a family RFA. From there, we can copy the Scope Box from family to family as needed!
Here is another gift from What Revit Wants – a Generic Model family with a Scope Box in it that you can copy to other families:
Download family
It's pretty funny that you can't even Create Similar once you have a Scope Box in the family!
EDIT: Added video showing creation process: