Go Team Leo: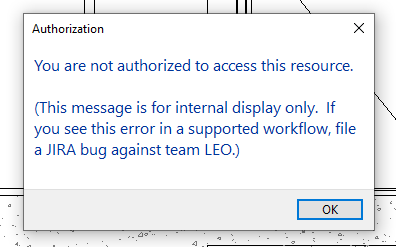 Helpful…
Revit time travel?
Ever felt this way? (via (@apertedesign)
Even Revit knows that new features will be added in the future:
This post used to be titled Another dimension beyond XYZ?  Inches to the fourth power …
but I have decided to collect funny Revit error messages and put them all here.
I received this message from Revit recently:
Then this tweeted image reminded me of it:
via Twitter / architect_face: Anyone had this error before? …
Evidently, Revit sometimes gets a bit confused by certain combinations of formulas and / or units?
EDIT:  Here's another good one-
via
Square feet per foot dialog | BD Mackey Consulting | The Revit Geek Blog
EDIT:   And some more-
And some warnings:
EDIT: Another one
and one from Aaron Maller
EDIT:  More will be added below–
Another square feet per foot:
Danger: Square Feet Per Foot!!!Thanks for warning me #Revit #StupidComputer #ArchitectLife #Work twitter.com/PrestonBrock/s…
— Preston Kissman (@PrestonBrock) January 9, 2013
One more for @lukeyjohnson Happened in #Revit2013 when restoring project from renamed (hence unreachable) backup dir twitter.com/dourevit/statu…
— David Baldacchino (@dourevit) February 15, 2013
Opening a local file with some problem in #Revit2013 Here you go @lukeyjohnson add it to the pile! twitter.com/dourevit/statu…
— David Baldacchino (@dourevit) February 28, 2013
This one via Revit OpEd: These are not the Warnings You are Looking For
Can you be a bit more specific about *when* please #Revit?More at: whatrevitwants.blogspot.com.au/2012/08/anothe… twitter.com/lukeyjohnson/s…
— Luke Johnson (@lukeyjohnson) December 11, 2012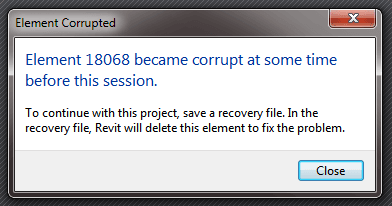 Strange #Revit error of the day. Has anyone else ever seen this one? pic.twitter.com/lrs6ods4Go
— Boost Your BIM (@BoostYourBIM) September 22, 2013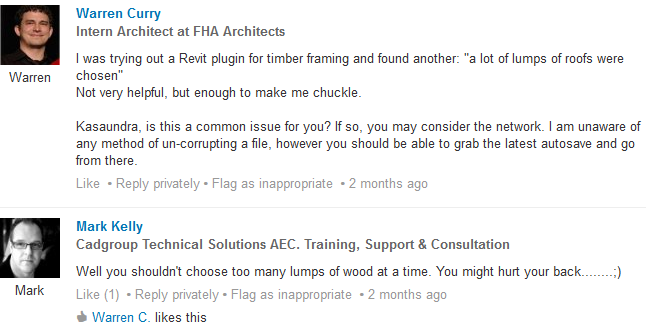 "Lumps of Roofs"
Still not sure if this one was real:
Be careful of those ridiculously large journal files:
New fave' @AutodeskRevit error message from opening a journal file. I do work on some 'ridiculously' large projects. pic.twitter.com/KKjHTwV9be
— Alan Moylan (@BIMgeek) October 17, 2014
'becasue'
More:
well, this is certainly a new one. ::sigh:: pic.twitter.com/3iApKNH2Xc

— Nancy McClure (@apertedesign) September 22, 2017