I am currently installing Building Design Suite Premium 2012 from the shiny USB stick we received yesterday. There are just two quick tips that I wanted to share with you:
If your packaging does not have a Serial Number printed on it, you will need to log in to Subscription Center, go to Contract Administration and then click Coverage Report. From here you should be able to find your Serial Number.
If you want to use the 'UK Terminology' in Revit Structure (as previously posted about on various blogs), there is an option in the installation – see image below: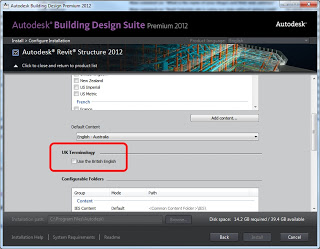 My installation took about 50 mins – and I installed every product. Enjoy!