I kind of hate surveys. They seem to be a bit of waste of time, right? Hypocritically, I have created a mini-survey on Twitter. It covers topics like:
primary BIM software in use
BIM hardware, including OS, number of monitors, RAM
BIM project types
BIM user experience
BIM standards in use
Please feel free to navigate through the questions below and vote on them.
You have 7 days 🙂
I usually use

— Luke Johnson (@lukeyjohnson) September 17, 2017
I run Revit on

— Luke Johnson (@lukeyjohnson) September 17, 2017
I use

— Luke Johnson (@lukeyjohnson) September 17, 2017
The graphics card in my main workstation is a

— Luke Johnson (@lukeyjohnson) September 17, 2017
My main workstation has this much RAM

— Luke Johnson (@lukeyjohnson) September 18, 2017
I have been using BIM for

— Luke Johnson (@lukeyjohnson) September 18, 2017
Most of my BIM projects are related to

— Luke Johnson (@lukeyjohnson) September 18, 2017
My BIM projects usually comply with

— Luke Johnson (@lukeyjohnson) September 18, 2017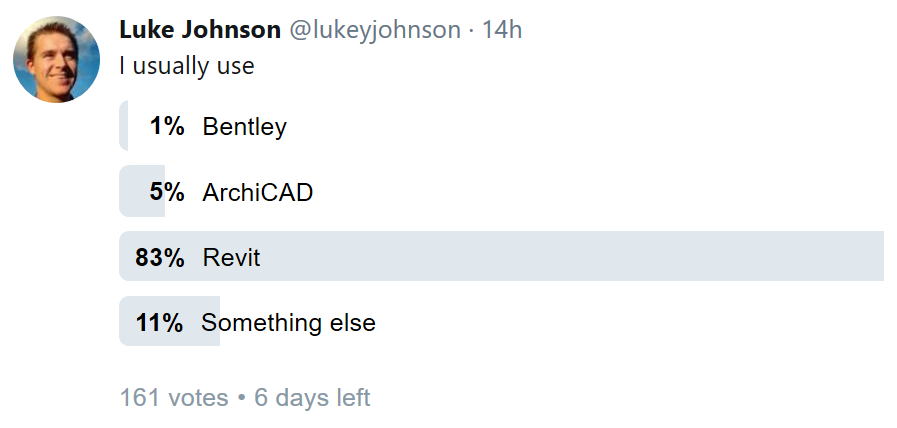 I look forward to seeing the results…