We are seeing this error on a received Structural model:
Analytical model edge cannot have a length of zero (0)
Revit does not offer a solution – you can't Delete Checked, and you can't press OK. It just keeps coming back.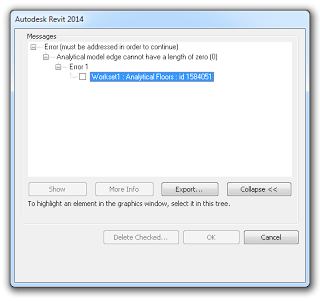 Unticking the "Structural" instance parameter for the hosting floor will work (it just gets rid of the problematic Analytical Floor), even if unticking the "Enable Analytical Model" box in the Properties Palette won't…
However, I think this is a bug or at least an undocumented problem that needs a better fix.
Some forums mention the issue, but there is no real solution yet:
Analytical model edge cannot have a length of zero… – Autodesk Community
Analytical Model Edge Warning