A recent post on Ideate Solutions reminded me of a handy Revit Extension that you may not be aware of:
Shared/Project Parameters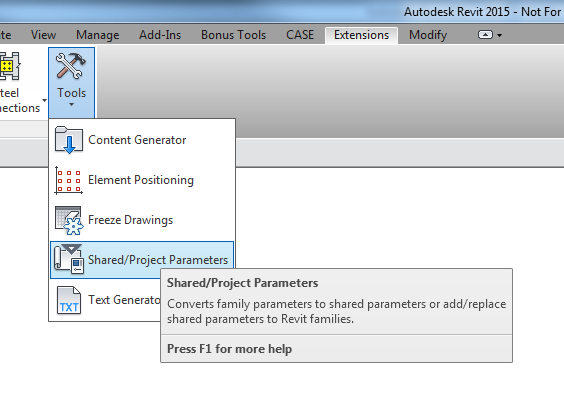 Download Revit Extensions for Autodesk Revit 2015:
Quote:
It's called "Shared/Project Parameters" from the pull-down, but when it's launched it will open a dialog that says "Shared Parameter Converter".
This image shows that I am asking the tool to read all of the .RFA files found within my "11 Specialty Equip" folder and that I am going to read particular parameters from my Shared Parameter file and push them into these families. The modified families will then be copied into a new folder called "Updated Specialty Equip" and the results of this work will be included in my "!test" folder as a log file.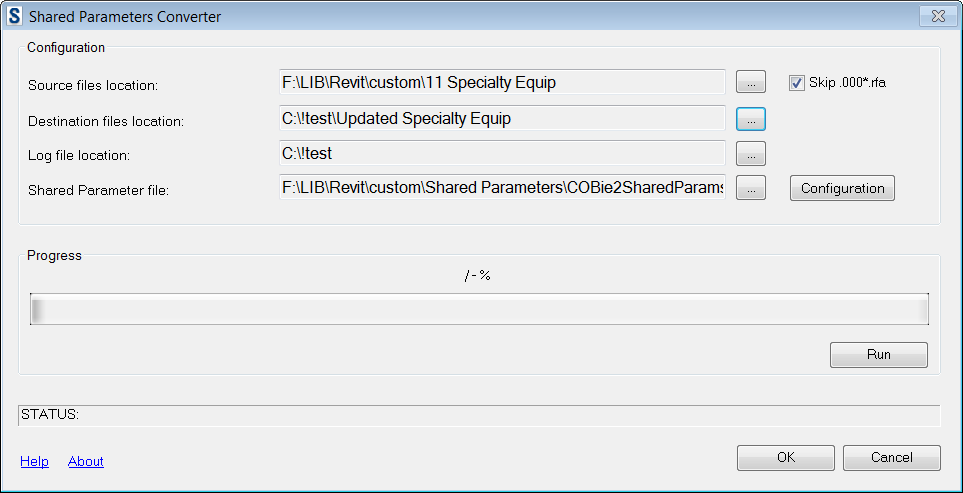 The Shared Parameters Converter Dialog From
Revit Extensions (2014/2015)
Original post:
Ideate Solutions: Batch Adding Shared Parameters to Revit Families
You will need to login to Subscription site to download:
extend the capabilities … in key areas, including structural analysis, modeling, reinforcement, interoperability and
construction documentation. This download contains a portion of all
previously released Revit Extensions (some content has been migrated to
Autodesk Exchange Apps as separate installations or is no longer
supported).
Please note that the multi-language executable file
contains the following language versions: Brazilian Portuguese, English,
French, German, Japanese, Polish, Russian, and Simplified Chinese.
*Autodesk
Revit 2015 software is only available as part of the Autodesk® Building
Design Suite 2015 Premium and Ultimate Editions and Autodesk®
Infrastructure Design Suite 2015 Ultimate Edition.
Download
via
There are now 9 apps for Revit 2014 uploaded to Autodesk Exchange that are classed as "Subscriber Benefit Apps". These are basically standalone install packages for things that are bundled up in the Revit Extensions package.
You can view the list (and download the packages) here:
http://apps.exchange.autodesk.com/RVT/en/List/Search?productline=RVT&query=&facet=_subscriberBenefitApps&collection=
Note: you will need to login to your Subscription account, then go to Autodesk Exchange (or use the above link).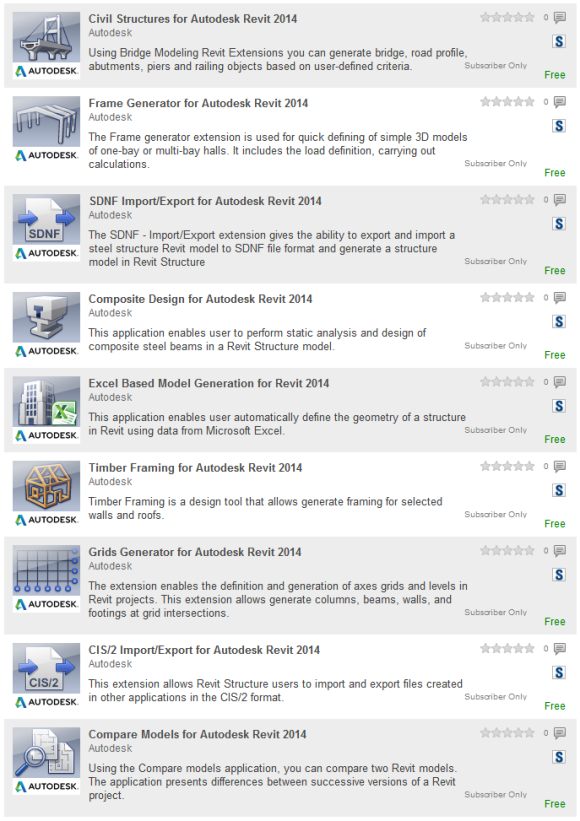 This same list is copied from the Revit Extensions feature summary:
o Wood Walls Framing, Roof Framing, and Roof Trusses extensions are
available now as Timber Framing package
o Compare Models
o Grids Generator
o Civil Structures
o CIS/2 Import/Export
o SDNF Import/Export
o Excel based model generation
o Frame Generator
o Composite Design
The Q3 Update includes enhancements to bridge modeling, integration with Autodesk® Robot™ Structural Analysis Professional 2013, and improvements to the reinforcement extensions. Refer to the "Feature Summary" for details.
Read more / download at:
Revit Extensions for Autodesk Revit 2013


Extract REX setup from exe to C:Autodesk
Go to C:AutodeskREX_RST_2012x64REX_RST (for x64)
Run the command as an Administrator: REX_RST.msi /q
via
Revit 2012: Silently Install Extensions – Up and Ready
http://upandready.typepad.com/up_and_ready/
Here is a good guide on how to install the Google Earth Extension in AutoCAD.
There is a workflow which allows the topography from Google to be placed into Revit. You could try:
AutoCAD with Google Earth Extension – Export DWG – Import/Link into Revit
OR
Sketchup – Save SKP – Import/Link into Revit
Installing the Google Earth Extension for AutoCAD-based products – It is Alive in the Lab